In Romania, the awareness campaign on migration was successfully launched on the 24th of October by using visual materials located on the Bucharest subway in five locations, for a period of one month.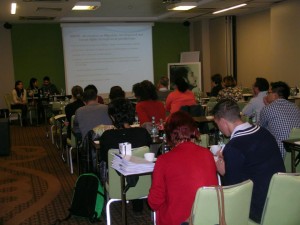 The official launching event took place on the 30th of October, summing a press conference and workshop dedicated to AMITIE film (Romanian version), migration, development and human rights issues. The event was attended by 30 operators from mass media, local authorities, not for profit organizations and private firms with direct interest in the field.
As further events to be organized in Romania, the official launching of the AMITIE movie (European version) will take place at the Vito Grasso Italian Institute for Culture in Bucharest, on the 28th of November, with the attendance of Reda Zine, film director and operation crew in Bucharest. Also, on the 29th of November, a secondary launching of the movie followed by a workshop dedicated to the event will take place in a more non-formal environment (club, bar, disco).
Starting the 10th of December there are planned another two exhibitions using the location of bus shelters and downtown located billboards, which will last for a period of one month. A New Year Party will take place at the end of December, with a new presentation of the AMTIE movie, posters and campaign protagonists, all of them being enlightened by a migrant's band and contests.
Other events in January 2013 are focusing on school meetings and contests with kids and teenagers.
Stay tuned!